It is with heavy heart that I share the sad news of the passing of Mary Ulrich, former Peoria Treasurer and IMTA President (1987/89). IMTA will send flowers to the service of Mary "Mother of IMTA".
Our prayers go out to Mary and her family.
Michael Peterson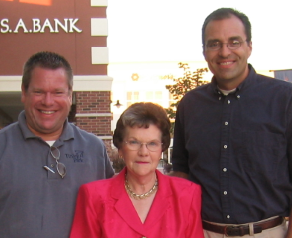 Mary's Retirement Day
(Brad Bettenhausen and I visited Mary on her last day of work)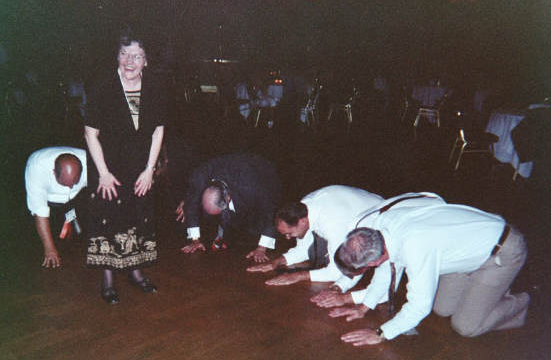 Municipal Treasurers Association 2001 Annual Conference
Mary loved this photo of the Past Presidents (IMTA & MTA) worshiping her. We bowed down on our knees and chanted "We are not worthy". Mary laughed "Ok you boys, get up, your embarrassing me". Then she turned and whispered with a giggle "I really did enjoy that".
Funeral Home> Mary's webpage: http://hurdfamilyfunerals.com/tribute/details/5131/Mary-Ulrich/photos.html#content-start
Obituary: http://www.legacy.com/obituaries/pjstar/obituary.aspx?page=lifestory&pid=186901896
PEORIA - Mary A. Ulrich, age 81, passed away on Sunday, October 8, 2017, at her home in Peoria.
She was born to the late Glen and Daisy (Smith) Horr on May 8, 1936, in Peoria. She married Harry L. Ulrich in Indiana in 1963. He preceded her in death on May 24, 1980.
She was also preceded in death by her daughter, Jean Johnson; son, Mitch Ulrich; brother, Bobby Horr; and sisters, Wanda Vanardi and Jean Nebergall.
Mary is survived by her sons, Harry (Cheryl) Ulrich of New Athens and Rick (Cathy) Ulrich of Trivoli; grandchildren, Bonnie (Mark) Meinders of Washington, Robert (Jessica) Johnson of East Peoria, Matthew Ulrich of Mapleton, Jillian (Christopher) Hansen of Spring Bay, Jessica (Eric) Force of Washington, Rachel (JF) Ferretti of Finnemore, WI, Robert Kessler of Davenport, IA, Rick (Crystal) Ulrich of Pekin and Katelynn Kessler of Peoria; numerous great-grandchildren; and sisters, Elizabeth Newton of Canton and Judy (Don) Woodcock of Trivoli.

Mary graduated from Canton High School and attended Midstate College. She was Manager of Peoria City Employees Credit Union for 8 years before working as City Treasurer for 22 years. She was proud of the way she grew the Firemen's Pension for the City of Peoria. Mary was active on the Board for Boys and Girls Club of America, was past President of the National Treasurers Association, past Director of Municipal Treasurers Association of the United States and Canada, Proclamation President of Municipal Association, and a member of Illinois Municipal Treasurers Association. Mary received a Trustee Program Certificate of Completion, as well as a special service award for her achievements and commitment. She was a Certified Financial Administrator and a Certified Municipal Illinois Treasurer. She was awarded the Charlotte Danstrom Women of Achievement Award. She was a lifelong Christian and a member of Living Waters Lutheran Church in Peoria. She enjoyed traveling Europe, spending Saturday nights watching movies with her girlfriends, volunteering, collecting angels and hosting Christmas Eve for her family.

A funeral service for Mary will be held at 10 a.m. on Thursday, October 12, 2017, at Living Waters Lutheran Church. Pastor Mark Anderson will officiate. Visitation will be held at Cumerford-Hurd Funeral Home on Wednesday, October 11, 2017, from 5 to 7 p.m. Burial will be held at Lutheran Cemetery.
Memorial donations in honor of Mary may be made to the American Lung Association or National Parkinson Foundation.
Mary's online memorial website may be viewed at www.cumerford.com.
Published in Peoria Journal Star from Oct. 10 to Oct. 12, 2017