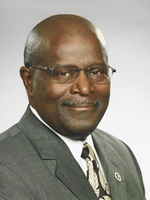 Kenneth Robinson
APT US&C President, 2018-2019
Thank you to the members of the Association of Public Treasurers of the United States and Canada (APT US&C) for allowing me to serve as your president for the upcoming year. The Board of Directors and I promise to provide you with educational opportunities that will help you in your daily tasks as treasury professionals.
Thank you to all the past presidents of this great organization who have been instrumental in providing guidance in keeping the organization strong. To the affiliate Presidents, thank you for committing to work with APT US&C to assist you in providing educational opportunities to your members.
To our wonderful sponsors, thank you for your continued support of our organization. Your commitment helps APT US&C provide the necessary support to our members.
We will continue to offer regional training for our Certified Public Funds Investment Manager (CPFIM), advanced CPFIM, Cash Handling and Internal Controls. You can contact our office to schedule a training for your group.
As your president, I ask for your assistance in helping APT US&C to provide you with tools needed to perform your duties by volunteering to serve on one of our committees. Your expertise as a treasury professional on a committee will help APT US&C continue to be a strong organization providing valuable educational information to our members.
On behalf of the Board of Directors, thank you for being a valuable member of the Association of Public Treasurers of the United States and Canada.